Radio Control Cars
I enjoy racing and would love to race full-size cars. However, that is a time and money suck I just don't want to do (unless I win the lottery). I tried go-karts and did pretty well at that, but that again costs a lot of time and money. By accident I came across radio control racing (R/C for short). I used to associate radio control cars with the ones you can get from Walmart or Radio Shack. However, these cars are just like full-size cars and the competition is just as tight. They have fully working, tunable suspensions and follow the same physics as full-size racing. I've been doing this since 1998 and have been pretty successful. I placed 11th at my first national event in 1999 and 9th a few years later. The last few years I have not been able to race much due to work but I am getting back into it now. Here are some tips I have put together:
1/12th Setup Tips Cheat Sheet
Touring Car Setup Tips Cheat Sheet
Motorcycles
I love motorcycles from their looks to the awesome speed they have due to their impresssive power to weight ratio. I got my motorcycle license back in 1999 and have owned two motorcycles - a 1999 Buell X1 (white with blue frame) that I sold in 2003 and my current motorcycle which I picked up in 2001, a 2000 Ducati 748-S (red).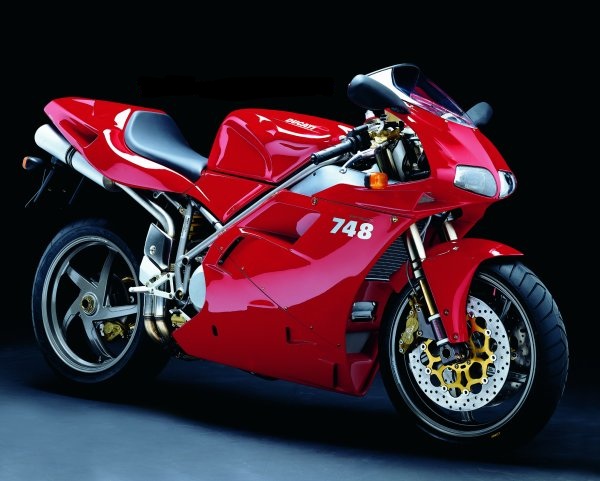 Cars
The only thing I like more than motorcycles are sports cars. My first sports car was a 1985 Toyota MR2 (blue), followed by a 1997 Acura Integra (black), and then a 1999 Mercedes Benz SLK 230 Kompressor (silver), and now a 1992 Porsche 911/964 Turbo (black) that I purchased in the summer of 1999. The 911 isn't the best car to get around in during the midwest winter months so my current winter car is a 2008 Mini Cooper S (champagne metallic). Prior to that I had a 2007 Civic Si (red).
Sports
I used to play a lot of sports before and during college - soccer, tennis, biking, and running. After I graduated from college and got a car I became a slug and didn't do much sports wise. This year (2007) I joined a kickball team and also an indoor soccer league. It is definitely nice to be getting exercise again!